Prensky's Message
Marc Prensky, as a motivational education speaker, is both practical and visionary. His message about education is deep and wide-ranging, and can be found in his books, essays, interviews, tweets, articles, speeches and videos.
Motivational Education Speaker for Modern Learning
For a quick introduction to Prensky's thinking, you can read his many tweets. Examples:
Being a Digital Native does NOT mean knowing how all technology works. It means having lived ONLY IN THE DIGITAL WORLD
Adults think of technology as a tool. Young people think of it as a foundation—it underlies everything they do
Motivation comes from choice. Persistence comes from passion. Kids need both.
If every teacher asked every kid "What are you passionate about?" & recorded & used the answers, our education would improve overnight.
Technology should be an opportunity for both teachers and students to experiment and to do new & powerful things
Click Here for All Tweets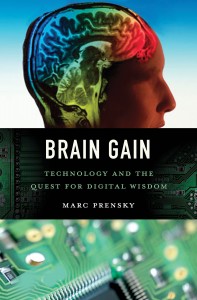 "In an age where the answer to every question is at your fingertips, where does the human brain fit in?"
In one hand-held object, we are able to manage all of our calendars, documents, and interpersonal relationships with such ease that many people are lost when forced to perform these tasks without the aid of electronics. Often heard are the calls for less technology and more face-to-face interaction, for fear that the use of all this artificial intelligence is dampening our own ability to think.